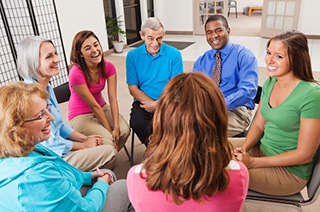 The Social Anxiety Group Therapy runs 4 times a year.  If you do not find the answer to your question below, please give us a call at 514-319-1744 or write to us using the contact form on the right and we will be happy to answer any questions that you might have.
Is this group right for you?
Do you feel nervous or uncomfortable in social or performance situations such as meeting new people, going to social gatherings, being the centre of attention, or being observed while working or performing a task?
Do you worry that others will notice how anxious you feel, and that they will think negatively of you for showing signs of anxiety, e.g., blushing, sweating, shaking, stuttering, having a panic attack, or not knowing what to say?
Are there places or activities that you avoid due to fears of being judged, criticized, embarrassed, or humiliated?
Is it hard for you to do things in public when others may be watching, such as reading, public speaking, eating, writing, using public washrooms, or eating alone at a restaurant?
Do you have "safe" places, people, or routines that you use to reduce your anxiety?
Does anxiety keep you from doing things you would like to do such as trying new things, asking for help, saying "no" to others, dating, making friends, or performing at work?
If some or all of these apply to you, this group may be for you!
What are the benefits of attending the group?
Learn about shyness and social anxiety
Understand what leads to and maintains your social anxiety
Learn to identify and distance yourself from your critical and self-defeating thoughts
Learn strategies to help you feel less anxious and more effective in social situations
Practice social skills in a safe environment with a trained professional and supportive group
members who know what it is like to have social anxiety
Obtain a comprehensive workbook about social anxiety to use throughout the group, which doubles as your own personalized self-help resource once the group is finished
When?
Weekly meetings for 1.5 hours
Duration: 12-week program
Start date: Groups run approximately 4 times per year. Please call or email us for details.
Payment Options
Insurance receipts will be provided
Please note that missed sessions cannot be refunded as your place in the group is reserved for you and cannot be replaced by another participant
Method of payment: Debit, credit card, cash, or post-dated checks
How can I register?
Please call 514-319-1744 or email us using the contact form on the right.
Download and complete this registration form. If you do not have access to the printer, you may complete this once you have arrive to the clinic.
Please bring your completed registration and method of payment to the screening session so that your registration may be processed after completion of this initial assessment.
**Please note that registration cannot be guaranteed as space is limited and will be provided on a first-come first-serve basis.