/
June 11, 2020
/
Last Updated April 8, 2021
For the past few months, our psychologists and therapists have been working hard to keep services going remotely at a time of increased pressure and social distancing during a lockdown that has been putting a strain on everyone's sense of wellbeing.
We are happy to announce that as of June 15th, many of our therapists will be returning to their respective office locations in order to provide in-person sessions again.
As per public guidelines, various measures will be in place to ensure the safety of clients and therapists alike.
Measures will include, amongst other things, the mandatory wearing of masks in common areas and bathrooms, as well as the use of in-office mechanical hand sanitizer dispensers. Therapists will ask you about flu-like symptoms prior to entering the therapy room, and reserve the right to postpone your session if you exhibit signs of infection.
In addition, we are ensuring physical distancing via Plexiglass installations between the therapy chairs, where 2 meters distance between therapy chairs is not feasible.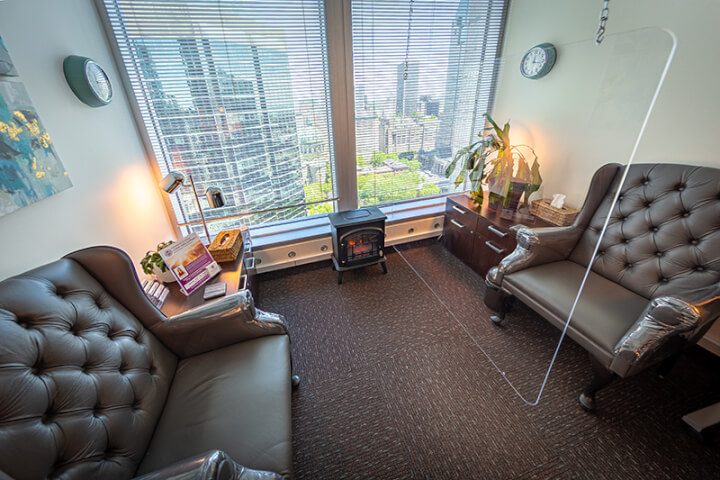 Please refer to your first-session instructions for more details on how we will go about making your safety our top priority. As always, feel free to give us a call at 514-534-0295 for more information and to schedule an appointment.
We are looking forward to seeing you in person!
About Blake Psychology
Blake Psychology is a private psychology clinic, with offices located in Montreal and the West Island. We provide psychological assessments, counselling, and psychotherapy for children, teens, and adults, as well as sex and couples therapy.
François Lepage, Eng., PMP – Co-owner & General Manager
Dr. Emily Blake, PhD, Psychologist – Co-owner & Clinical Director
Dr Emily Blake, Psychologist
Dr. Blake is the owner and director of the Blake Psychology clinic and a regular contributor to the blog.
More About the Author