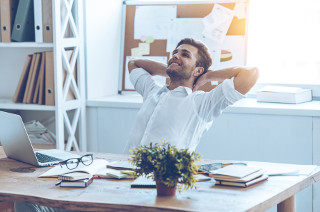 Am I having Burnout?
Ironically, or perhaps logically, it is often the people who work the hardest, who end up burning out. It is the "supermoms or dads", the "perfectionists", the "workaholics". It's the people who seem to get everything done, who work the long hours, and who amaze and impress others with how much they are capable of doing.
All of this over-achievement can come to a grinding halt if you are experiencing burnout. You can go from getting it all done to getting relatively little accomplished.
Your self-esteem can plummet, you can feel physically exhausted, your concentration can evaporate, and your emotions can run wild (e.g., crying over small things or losing your temper).
Unfortunately, the more you keep pushing yourself to get more done, the more tired you become.
The difference between stress and Burnout
Stress happens because there's too much going on around you. It's when the demands on you exceed your ability to cope. When there are so many things that need to get done, you might try to keep everything under control by doing more than one thing at a time.
You can feel overloaded; like there aren't enough hours in the day. Stress also comes when something unexpected occurs that throws you into chaos.
For example:
A child gets sick
The boss gives you a new project
Someone breaks their leg while skiing
You have no choice but to deal with whatever has happened as quickly as possible in these situations. If you're not careful, however, you may find yourself overwhelmed and unable to cope effectively. When this happens, you experience stress.
Burnout occurs when you've been working hard for years without adequate breaks. Your brain has adapted to being overworked, which means you need even more effort just to stay focused.
Physical signs and symptoms of Burnout
Burnout is a syndrome that has been described in the literature for over 50 years. It was first defined by Freudenberger, who used it to describe "a state of exhaustion resulting from chronic stress," which he believed could be caused by an imbalance between work demands and personal resources.
Symptoms are often accompanied by other problems, including poor concentration, memory loss, irritability, and decreased productivity. The term 'burnout' refers to a specific type of fatigue resulting from prolonged exposure to high levels of emotional demand.
This form of fatigue differs from physical fatigue because it does not improve after rest. Instead, it persists until the person's ability to meet their obligations is restored.
In addition to the symptoms mentioned above, there are also several physiological changes associated with Burnout. These include physical symptoms such as increased heart rate, elevated blood pressure, and reduced immune function.
There have also been reports of sleep disturbances, headaches, gastrointestinal disorders, muscle aches, joint pain, skin rashes, weight gain, and sexual dysfunction.
The most common cause of Burnout is excessive workloads. However, many different factors contribute to Burnout, including job dissatisfaction, low pay, lack of control, interpersonal conflict, role ambiguity, and organizational change.
Other causes include long working hours, unrealistic deadlines, shiftwork, unemployment, family issues, financial difficulties, substance abuse, depression, anxiety, and personality traits like perfectionism.
Signs of Burnout include:
Feeling tired most days
Losing interest in things you once enjoyed doing
Being irritable and impatient
Having trouble sleeping at night
Not being able to concentrate for very long periods
Finding yourself constantly thinking about how much better off you'd be without this job/home/family/responsibilities
Feelings of worthlessness and guilt
Depression
Suicidal thoughts
If any of these sounds familiar, then you may have experienced Burnout. Thankfully, there are ways that you can recover from Burnout. The first step is recognizing what has happened so that you can take steps to prevent further damage.
Once you recognize the signs of Burnout, you will need to decide whether you want to continue working through the problem on your own, seek help from friends and family members, or consider seeking professional assistance.
Assessment of burnout symptoms
To assess your level of Burnout, you could ask yourself questions such as:
How often did you feel like giving up?
Did you think about quitting your job?
Were you afraid of losing your job?
Was your life becoming unmanageable?
Do you still want to go back to work after having taken some time off?
What would make you happy right now?
Would you rather spend money on things you enjoy instead of buying stuff you don't need?
Are you satisfied with your relationships?
Should I seek help for Burnout?
Whether or not you were over-achieving due to personal motivation or the desire to please others, or both, this pattern of "doing it all" tends to be deeply entrenched.
A pattern that may be likely to repeat itself if you do not seek professional help. While you might feel embarrassed or ashamed to seek help, asking for help is actually the first step to getting better.
Learning how to do less, and accept help from others can prevent you from getting burnt out again in the future.
If you are feeling burnt out, you might need to reduce your hours or course load at work or school, or even take a medical leave of absence.
If you are a stay-at-home parent, you might need to re-structure your days to allow for better self-care. Our therapists can help evaluate your options with you and can provide you with the necessary paperwork if required.
In all cases, therapy can help you to understand how you became burnt out in the first place, how you can recover, and how you can try to prevent this from happening again.
Burnout Recovery
It can be hard to predict on your own how long it will take, and what steps will be needed to help facilitate burnout recovery.  Although you might hate to admit that you need help, we all need help from time to time. Trying to "push through" on your own can sometimes make things even worse. Meeting with a therapist can help you to:
Prevent burnout if you are heading in that direction, or speed up the recovery process
Develop a plan toward re-establishing a sense of well-being
Evaluate if a reduction in workload at work or school is necessary, and help you reintegrate later on
Coordinate the burnout recovery plan with your doctor, school, employer, or insurance company if needed
Understand what led to the burnout, and create a burnout prevention plan for the future
Learn about other Specialty Services